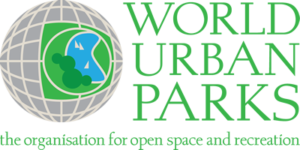 World Urban Parks (WUP) and ICLEI – Local Governments for Sustainability, through its Cities Biodiversity Center (CBC), are thrilled to announce an exciting partnership. The signing of a collaboration agreement formalizes the strong partnership between World Urban Parks and ICLEI for collaboration on the CitiesWithNature partnership initiative and the WUP campaign. Leveraging the individual and collective strengths of the two organizations, this partnership will establish a joint work programme on establishing sustainable urban areas that mainstream, protect, and enhance nature, and maximize the benefit derived from the ecosystem services and nature-based solutions that nature provides for all people and cities.
"The overall aim of this partnership is to reconnect communities with nature in and around urban areas and use the CitiesWithNature platform to facilitate this aim, for the benefit of all partners of the Partnership Initiative.  This partnership brings together two strong global organizations committed to advancing the protection and advancement of nature in urban environments for the health and well-being of all people and our planet," says Jayne Miller, Chair of World Urban Parks.
ICLEI CBC acts globally on biodiversity and nature on behalf of ICLEI, representing the local and subnational government constituency in the United Nations Convention on Biological Diversity (CBD), and is secretariat of the CitiesWithNature partnership initiative, on behalf of the founding partners: ICLEI, the International Union for the Conservation of Nature (IUCN) and The Nature Conservancy (TNC), and the growing network of supporting partners.
World Urban Parks serves as the global voice for urban parks, nature and nature-based solutions providing advocacy, best practices, and bench-marking through global collaboration to resolve issues and increase knowledge and capacity for urban park professionals around the globe.
"We welcome World Urban Parks as a partner on CitiesWithNature. Urban parks and green open spaces provide opportunities for urban communities to enjoy and connect with nature, improving health and well-being. While we cannot all access our parks right now, we know that nature never closes and its multiple gifts continue to benefit our cities. Together we stand in solidarity with our cities to celebrate the value of nature and our urban parks, as we build resilient CitiesWithNature," said Kobie Brand, Global Director: ICLEI CBC.
Both organizations look forward to working together to advance our joint vision for greener, healthier CitiesWithNature.
Contacts:
 WUP Secretariat Coordinator
1-780-644-6976
ICLEI Cities Biodiversity Center
CitiesWithNature
www.citieswithnature.org