Six Chinese "Charming Cities" announced at COP15
The first-ever Pavilion for Subnational Governments and Cities at UN CBD's COP15 not only created a home for the subnational and local governments constituency during the conference, but also offered a platform for the launches and announcements of a range of initiatives. During China Day on 13 December 2022, a new initiative titled "Biodiversity Charming City" – operated by ICLEI and China Environment News – announced six Chinese cities who achieved the Charming Cities title, namely: Chengdu, Kunming, Huzhou, Jiaxing, Nanyang, and Shenzhen. The initiative is developed to recognize those cities who have achieved remarkable progress and created best practices in biodiversity conservation at the local level in China. These six cities, which have all joined the CitiesWithNature partnership initiative, are currently implementing numerous biodiversity conservation projects, which are highlighted below.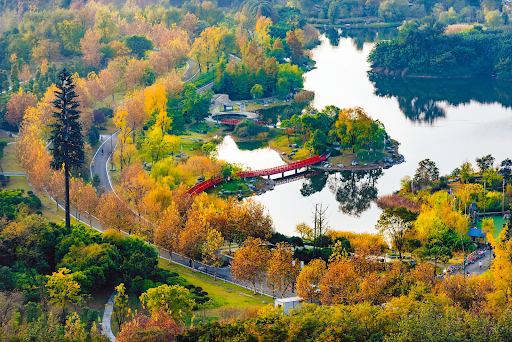 Chengdu City, the capital of Sichuan Province, is a mega-city with a permanent population of 21,192,000 with an urbanization rate of 79.5%. As an important high-tech industrial base in China, its GDP ranked 7th in the country in 2021. Chengdu is also one of the 34 biodiversity hotspots in the world, and rich in endemic and rare species, hailed as the "Garden of Western China" and the "Land of Abundance". The city has received several titles for its biodiversity, including National Model City for Environmental Protection (2005),  "National Forest City" (2007) and in 2020, the Chengdu Research Base of Giant Panda Breeding was granted the title of "National Advanced Collective in Scientific Popularization"
Case study: Fireflies nestling in Tiantai Mountain-lighting up ecological protection
Tiantai Mountain, 110 kilometers from downtown Chengdu, is home to more than 20 kinds of fireflies, with the leading number and species nationwide. Fireflies require very demanding conditions for survival – including high air and water quality. As a result, these insects are regarded as a visual biological indicator. To protect firefly resources and create a viewing base for eco-tourism, Chengdu City prioritizes science-based approaches to ecological conservation and sustainable development.
By 2021, with a forest coverage of nearly 95%, Tiantai Mountain greatly improved the conditions for fireflies to survive, attracting more and more "starry" fireflies to settle in Tiantai Mountain along with many wild animal species. Through the continued protection and cultivation of the area, Tiantai Mountain has been honored as a National Scenic Area, National Forest Park and National 4A-Class Tourist Attraction, strengthening the city's tourism-based economy.
Huzhou is an important ecological conservation area and ecological barrier in the Yangtze River Delta region, with a forest coverage rate of over 48% and a wetland area of 47,800 hectares. The city has formed a wildlife habitat protection system with seven national nature reserves at the core, supplemented by wetland parks and forest parks. In 2013, Huzhou was awarded the title of "National Forest City", and in 2022, it was approved to set up a sustainable development innovation demonstration zone.
Case study: Anji County, Huzhou City – bamboo ecology and economy in the "Hometown of Chinese Bamboo"
As the "Hometown of Bamboo", Anji County in Huzhou City attaches great importance to biodiversity conservation. It actively promotes the transformation of bamboo–broad-leaved forests and the practice of interplanting in bamboo forests, transforming moso bamboo species, and cultivating a vast bamboo sea to secure a habitat for wild animals. Simultaneously, it uses bamboo to sequester carbon and increase carbon sinks for sustainable development. With the advantage of rich bamboo forest resources, Huzhou City has established the world's first moso bamboo forest carbon flux observation system in 2010. In 2016, Anji County developed and completed the "Methodology of Bamboo Forest Operation Carbon Sink Project" and the country's first bamboo forest operation carbon sink Chinese Certified Emission Reduction (CCER) project. Anji County's bamboo industry offers bamboo structural materials, decorative materials, daily necessities, fiber products, biological products, and bamboo wood machinery, as well as crafts and food made of bamboo shoots. In 2021, Anji bamboo industries raked in 4.14 billion yuan in total, creating nearly 30,000 job opportunities.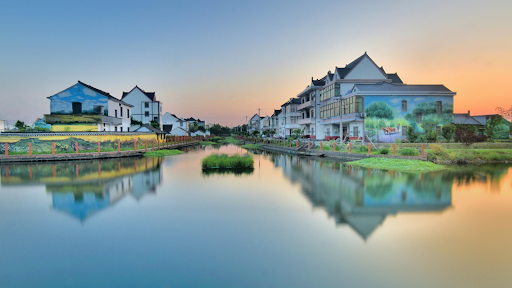 As one of the important cities in the Yangtze River Delta, Jiaxing is home to 5.4 million permanent residents. In the past five years, Jiaxing has invested more than 16 billion yuan in ecological protection and environmental management. The city has more than 3,000 species, including more than 1,000 species of terrestrial vascular plants, 300 species of terrestrial vertebrates, 600 species of insects and more than 1,000 species of aquatic organisms. In 2019, Jiaxing was named the "National Water Ecological Civilization City", and in 2021, it was approved as a national ecological civilization construction demonstration zone.
Case study: South Lake Park – underwater forest green corridor around the lake
Jiaxing's South Lake is a water storage hub for major local rivers. In 2020, Jiaxing South Lake District created a pilot water ecological environment demonstration zone in Zhejiang Province, to solve the problems of turbid water bodies and fragile water ecosystems, kicking off the South Lake Ecological Restoration Project. As a result of significantly improved water quality, the transparency of the lake was enhanced and resurging submerged plants in the South Lake area – which had almost entirely disappeared – now cover an area of 1.48 square kilometers, accounting for 28.5% of the water area, and forming a green corridor around the lake.
Jiaxing City has built the "South Lake District Water Digital Support System", which is the first successful application of using underwater acoustic measurement technology to ensure high-precision and all-terrain measurement of river networks in the plain. This enables the underwater measurement and monitoring of underwater topography of rivers and lakes in the South Lake District, projected visually, to support effective policy-making to solve underwater problems.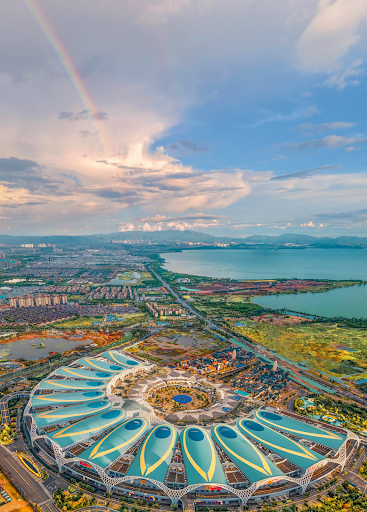 Kunming is the capital city of Yunnan Province – the richest biodiverse region in China and a global biodiversity hotspot – and host city to the UN CBD COP15 Part 1. By the end of 2021, Kunming had a population of 8.5 million long-term residents, of which 6.84 million are urban residents, accounting for 80.5% of the permanent residents population. Kunming's complex and diverse topography, numerous lakes and rivers, and sound hydrothermal conditions have fostered rich biodiversity. In 2013, Kunming was named the "National Forest City", in 2009, the "National Garden City". and in 2022, Kunming was named the "National Greening Advanced Group" by the National Forestry and Grassland Administration.
Case study: Nature-based solutions – biodiversity restoration of Dianchi Lake
Dianchi Lake is the biggest lake in Kunming, serving 64% of the city's population and 77% of the total economy. Since the 1970s, due to the rapid development of industry and agriculture around the lake, reclamation of land from the lake, and population growth, Dianchi Lake has been severely polluted by sewage. Recently, the Kunming Municipal People's Government has implemented the eco-environment restoration of the lake, to improve harmony between the people, city, lake and industry.
Kunming has made space for Dianchi lake by returning ponds, farmland and housing to the lake through 90 km of breakwaters. The city has also built an ecological belt, including lakeside wetland, ecological forest, and naturally restored lake wetlands, effectively improving the living environment of wild animals and plants, and greatly improving the biodiversity of Dianchi Lake. At present, the natural shoreline rate of Dianchi Lake has reached 89%, forming a basically closed ecological belt around Dianchi Lake.

Nanyang City is the geographical and cultural center of China, and home to the Funiushan Global Geopark and Baotianman Biosphere Reserve. In 2018, Nanyang City was approved as a national forest city, a national model city for greening, and a national pilot city for water ecological civilization. In 2021, the case of "Conservation and Restoration of Water Sources in the Middle Route of the Danjiangkou South-to-North Water Diversion Project in Henan" was included among the "100+ Biodiversity Positive Practices and Actions around the World" by the UN. Finally, in 2022, Nanyang was rated as one of the first national pilot zones for ecological progress.
Case study: Ecological Restoration of Water Sources in the Middle Route of the Danjiangkou South-to-North Water Diversion Project in Henan
Henan Danjiang Wetland National Nature Reserve is one of the richest biodiverse areas in Nanyang and crucial to providing safe drinking water for nearly 79 million residents living in Beijing, Tianjin, Hebei and Henan. However, the reservoir area of Danjiangkou Reservoir has a highly fragile ecological environment, with persistent challenges such as stony desertification of mountains, slope soil erosion, non-point source pollution of farmland and unsustainable use of wetlands. 
Over the past three years, degraded wetland of 4 million square meters at Danjiang Wetland National Nature Reserve has been restored, and over 6 million trees such as bamboo willow, dawn redwood, poplar, reed, and mulberry trees have been planted, which has vastly improved the wetland's ecological environment. Numerous bird species have settled in the reserve, including the protected great bustard, golden eagle, and scaly-sided merganser species. The Danjiang Wetland has become the most important habitat and breeding place for birds in Henan Province and the most important place of transit for migrating birds in North China. This progress has further led to improved patrol, management and protection of the Reserve.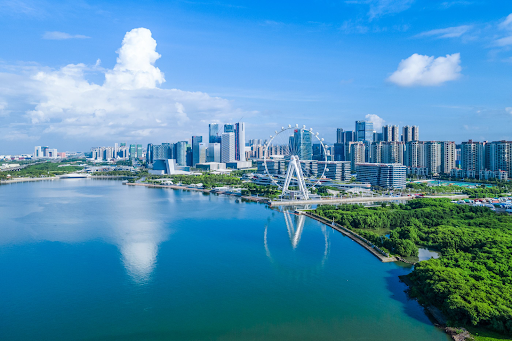 Since its origin in 1979, Shenzhen has rapidly developed economically into a megacity with a permanent population of 17.68 million, a GDP of over 3 trillion yuan, and an urbanization rate of 100% in 2021. Shenzhen is both a mountainous and coastal city with diverse ecosystems and rich biological resources. In 2018, Shenzhen was approved to become an innovation demonstration zone for sustainable development, and in 2020, it was named the "National Model City for Ecological Progress".
Case study:Public participation in the management of nature reserves: A case study of Futian Mangrove Ecological Park
The Shenzhen Futian Mangrove Ecological Park forms part of the coastal wetland ecosystem of Shenzhen Bay, creating a buffer zone between nature and the city for urban biodiversity protection. To protect natural ecosystems in the park, the city's approach included mobilizing and educating the public, as well as improving public services. Ultimately, the Shenzhen Municipal Government is working towards a model characterized by government leadership and public participation in nature reserve management, with guidance from experts.
As a result of this approach, biodiversity in the park has increased – in particular, the 22 species of mangrove plants and species recorded on the IUCN Red List of Threatened Species. Moreover, the ecological park creates opportunities for local and global exchanges and promotional activities to create awareness of the importance of the park. The marine forest restoration project of the ecological park was included among "Top 10 Typical Cases of "Nature-Based Solutions in China" by the Ministry of Natural Resources and IUCN.