USA city, county or community? Register now for Biodiversity Bootcamp!
To prioritize nature-based solutions during the "Super Year for Nature" — a year when the global community is calling for nature to have its "Paris Agreement" moment — ICLEI USA is hosting a six-part "Biodiversity Bootcamp" learning-and-leadership virtual training series open to all U.S. cities, counties, and communities (non-ICLEI members welcome). From July 18 until August 22, 2022, every Monday 11:30 am to 12:30 pm MST, engage with the United Nations Convention on Biological Diversity (CBD) proceedings unlike ever before.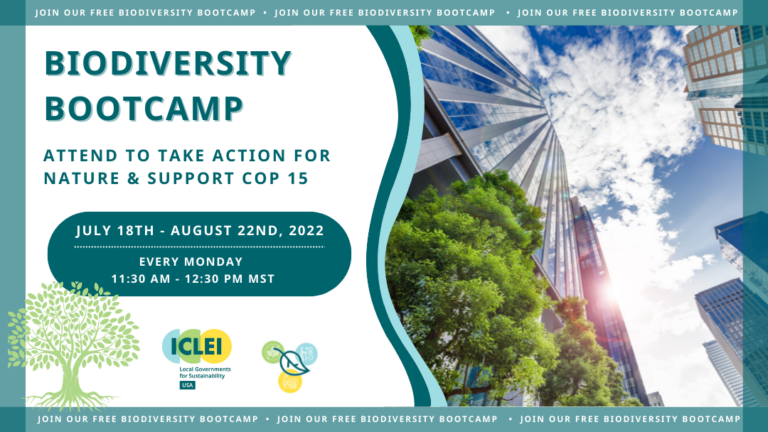 Each Bootcamp session features a unique lens on biodiversity solutions:
Session 1: Introduces global frameworks and advocacy at the federal, state, and local levels and outlines the Bootcamp
Session 2: Establishes baselines for action in support of nature, showcases natural asset mapping, and features International Union for Conservation of Nature nature-based solutions in cities' framework
Session 3: Explores finance options (crowdfunding, green bonds, grant programs, and making good use of U.S. Infrastructure Bill funds)
Session 4: Includes community driven planning, financing, and implementation of biodiversity solutions within local communities
Session 5: Focuses on community engagement and citizen science and explores city-university collaborations and their role in taking action for nature
Session 6: Features a 'putting-it-all-together' workshop, which includes reviewing success indicators, implementing a natural asset report map, and determining threats to current management
Want to take action for nature and spearhead nature-based solutions in your community? Read more about the free Biodiversity Bootcamp, and register here to be at the forefront of addressing and remediating the global biodiversity crisis.